If it is time for your business to go online, you need to decide which platform you will be using. Every company needs to choose based on their commerce requirements, focusing on current affairs and immediately planning for the future. Maybe, you want to function online in a short amount of time, or you require some specific functionality – then you know what to search for! In this article, you will discover the e-commerce platform concentrated on the B2C segment – Commerce Cloud. After reading, you will be familiar with the intricacies of working with the platform, which will help with decision-making.
It is worth clarifying that the e-commerce platform solution itself from Salesforce exists in two forms – Commerce Cloud B2C and Commerce Cloud B2B. Despite the definite difference in platforms' purposes, they also differ in their component and internal focus. B2C platform legitimizes visual design: design, color, photo, video, and advertising to interest the potential buyer. The B2B platform, in turn, aims to help the customer and distributor place and manage their orders.
What is Salesforce Commerce Cloud B2C? 
Commerce Cloud B2C (former Demandware) is a solution for large companies; small and medium businesses are less likely to choose this option at the beginning of their journey. Based on the Salesforce website: Commerce Cloud is a multi-tenant, cloud-based commerce platform that empowers brands to create intelligent, unified buying experiences across all channels — mobile, social, web, and store. In a nutshell, it is a cloud-based сommerce platform with a vast managing potential and a tone of functionality – everything you need for an online store. 
Commerce Cloud stands out for its sheer number of content and website promotion tools such as marketing, content, promotions, merchandising, order fulfillment, customer service, and AI.
Main features of SF Commerce Cloud B2C
Before considering the platform itself from different angles, it is necessary to emphasize that popularity belongs to the functionality and friendly user interface. The platform provides all the tools you need to plan successfully, launch, market, and track your online stores. Commerce Cloud is a powerful and ever-improving platform that will become an excellent solution for your business, and now you will learn why.
One of the best user interfaces on the market
The platform is justly easy to use. Of course, you will have much more benefit if you understand the functionality or spend some time studying it. Having an experienced team, in this case, is especially useful. And if you have problems or any questions, you can always contact support and forums.
Many users point out specifically the differences between the Demandware user interface and other similar platforms. The basics are explicit and straightforward.
Customization and adaptation 
The great thing about Commerce Cloud is that you won't find ready-made themes for use – you have the opportunity to build a brand new and unique site with created, coded, and tested features. If your website requires an individual design, thanks to the traits of CC B2C, the platform will match any design solutions for your site. As a result, you will get a unique website that will stream across all channels.
When you make changes in Commerce Cloud, it demands checks, double-checks, and triple-checks. Therefore, when mistakes or bugs are made, they do not go live or disrupt the work of your site.
Commerce Cloud B2C broadcasts on all platforms and is compatible with major browsers (Internet Explorer, Chrome, Opera, etc.). 
Marketing and multi-channel managing 
The marketing features that are already built into the Demandware allow personalized ad campaigns with a very narrow setting. The tools also allow you to create targeted sales that increase conversions and customer loyalty. For best results, you can test streams and ads with A/B testing. In general, Salesforce provides customer-oriented companies. There is also the possibility of automation. Sales managers will monitor and track the sales funnel regarding the behavior of customers at every stage. 
Salesforce Commerce Cloud B2C allows you to create sophisticated user interfaces for a wide variety of users. Besides, Einstein AI technology is included with each Salesforce product. Which, without a supervising team and data preparation, individually selects marketing for each client.
Salesforce, along with the platform, also provides control over the website back-end; it will work better under a team of people with technical expertise. Thus, you can have several different shops with the same back-end that will have nothing in common to the final customer.
The platform allows you to adapt the website to the country/state and any changes based on the region's features. Despite this, all statistics and management are combined in one place and facilitate control over the site. Thanks to customization, it is possible to adapt the entire management page for administrators' convenience.
Continuous Innovation
The vital feature of the platform is constant innovations, similar to the whole Salesforce company. Despite the existing feature set, new features are regularly emerging to aim at improving your business. It allows your store to be relevant to your customers. 
Salesforce strives to innovate by continually modernizing, improving, and enriching its functionality. The company is also interested in adopting new functions. The B2C CC platform has everything and more for the day-to-day running of your eCommerce business. In addition to existing complex solutions, you have the opportunity to use these solutions to create new ones. It's no secret that customization can be challenging and takes effort, but most often worth it.
Pricing
Commerce Cloud is rightfully considered one of the most expensive e-commerce business solutions. While being one of the robust platforms in functionality and use, it obviously won't work equally well for everyone. The price depends on the sales, as the platform charges from 2% to 4% per month of the total sales. It's expensive. On the other hand, if you have a small store that does not bring in as much profit, you pay much less. Salesforce itself likes to say that their incentives match yours because they only earn when you do. Planning a budget, you also need to consider the team that can deliver your project and set up all the processes. 
Let's talk about competitors
Buying a customizable platform rather than full-stack development from zero usually means access to support and maintenance, faster startup. Choosing the right e-commerce platform is central to cultivating loyal and long-term customers. On average, repeat customers will spend more time and money on the site than new customers. 
Gartner examined current commerce platforms for 2020; the same research was being carried out in 2019. You can see the quadrant dedicated to a year and divided into four categories – Challengers, Leaders, Niche Players, and Visionaries. Thanks to this analytics, we can observe the companies based on those categories and company preferences.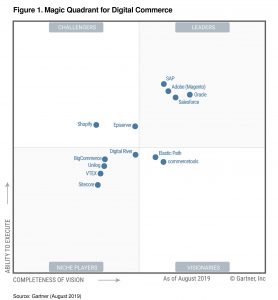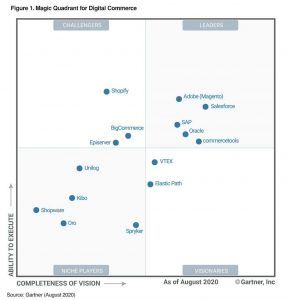 The graphs were taken for example from the Gartner site article.
Below are some basic information and comparisons to two well-known e-commerce platforms.
Magento is an e-commerce platform that provides access to changing shop design, content, and functionality. The platform provides all the tools for marketing, catalog management tools, and search engine optimization. It has one of the best SEO optimizations available on platforms of this kind.
Speaking of price, it is not the most economical, but it is cheaper than SF B2C CC; the price is generally built a little differently. There are no up-front costs with Community Edition, and the average price is $18,000 per year. It also has more developers available to customize and deliver your project. 
Magento is one of the most comfortable and intuitive platforms to use if you already have some experience. The platform is not exactly competing with Commerce Cloud B2C, but rather, they have different focuses on the customer segment. Magento is popular with medium and small companies, especially. The platform emphasis on design customization: there are hundreds of free templates, thousands of paid ones, and completely flexible designs.
Magento, like Demandware, offers 24/7 support through three channels – phone, email, and live chat. But the official support forum with the FAQs is spammed, and it is almost impossible to find the information you need.
Shopify is an eCommerce SaaS platform for businesses and entrepreneurs that allows performing easy-to-manage online selling. It is simple to build, set, and use as a beginner with no extra knowledge of coding or web designing. The platform has multi-channel support on various channels and more often used for retail purposes.
This platform is very popular with startups and small companies. There are two payment types: the first is a monthly subscription (the minimum is $29) and Shopify Plus from $2000 for large companies. This option will not be profitable only if your store does not earn anything.
The advantage over CC B2C is that Shopify can be customized with thousands of plugins and various templates at a pleasant cost. The downside is that compared to SF, these plugins are uncertified and can slow down your site. 
Shopify is more suitable for a small store whose products and requests are very straightforward. If the product is complex and needs a marketing focus – it is unlikely to be the best option.
Conclusion
To sum up, Commerce Cloud is perfect if it faces the goals of your business. More often applicable as a solution for large stores with specific functional or design. For the websites that need constant manipulation of information. Will be an excellent choice for growing businesses with plans to expand globally or operate in multiple geographic locations. It is definitely for those who need an inclusive, fast-running site with continuous operation. It might not be the cheapest, even the expensive option, but it is one of the best solutions. 
Before deciding on a platform to choose, you need to know that there is no thoroughly perfect platform. Nor can one platform be relevant to all types, sizes, and business/industrial goals. Often simple e-commerce platforms strive to be intuitively manageable and straightforward; they are relatively low in price but lack the list of sophisticated functionality that more experienced users appreciate. Other platforms have a wide range of features and fit a broader list of specific requirements; they are at a much higher cost and require more time for launch. It is essential to be aware of your needs and choose what fits your priorities. 
Consider not the current state of things but think about future perspectives. What are your plans? Grow an international company or stay local with an inclusive product? Maybe you need only basic functionality with creative plugins for design (and more) or robust marketing with control of advertising campaigns? You are the one who knows what your business needs.